Microsoft Teams hit the 145 million daily active user mark in April of this year. The explosive use of MS Teams and apps like it has forced companies to reevaluate compliance management. One of the main factors in the dominance of Microsoft Teams is that it is a part of their ecosystem known as "Microsoft 365" (formally Office 365).
Traditionally, email has been the primary focus of compliance and privacy regulators, in terms of electronic communication. However, with the increased adoption of collaboration apps, companies should also consider the management and capture of unstructured collaboration app data.
To understand this new challenge, we partnered with Osterman Research for an in-depth survey of 142 IT decision-makers in mid and large-scale organizations, all of whom are currently using Teams.
Primary Findings
One statistic of note, 75% of those surveyed, responded that within the previous year, they were required to access their MS Teams data due to a specific incident.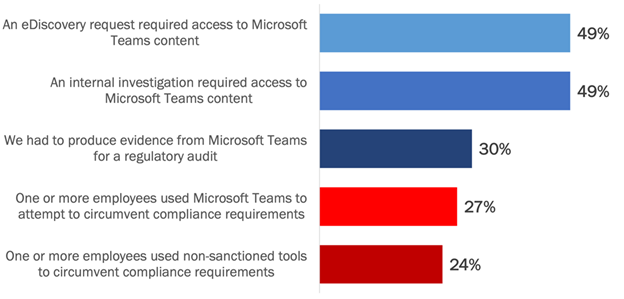 Another interesting finding is that roughly 50% of survey respondents think native MS Teams archiving tools are sufficient to meet their requirements today—and that number is set to decrease in years to come.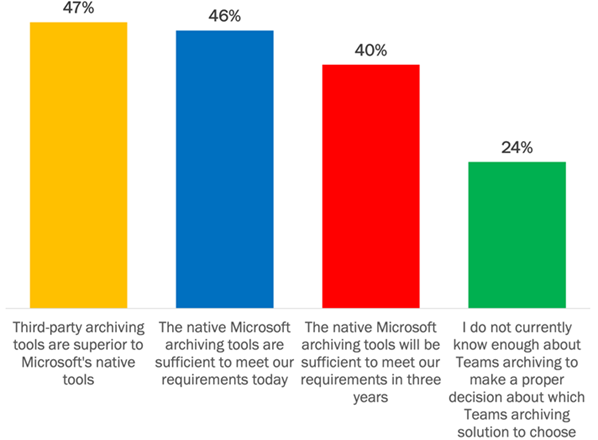 Drivers to archive Microsoft Teams data with a third-party solution
Based on this data we have identified certain respondents that may require a third-party solution to supplement their native MS archiving tools. To understand the types of functionalities that would prompt interest in a 3rd party solution, respondents were asked to rank the importance of ten possible reasons, compiled in 3 groups, they would consider third-party offerings.
For example, organizations that fall in Group 1 are going to prioritize search and capture functionality. Some types of questions this group may ask when evaluating a 3rd party solution may include:
Can I capture all of the data types that I need outside of the standard MS files and folders?
Do I have access across all platforms?
Can I access everything inside MS 365 to include inboxes and Teams and still access everything outside that ecosystem?

Those in Group 2 may prioritize integration with existing compliance tools and policies.
Can I preserve historical records and apply comprehensive universal policies?
Is there a paper trail of the changes made within my organization that I can audit at will?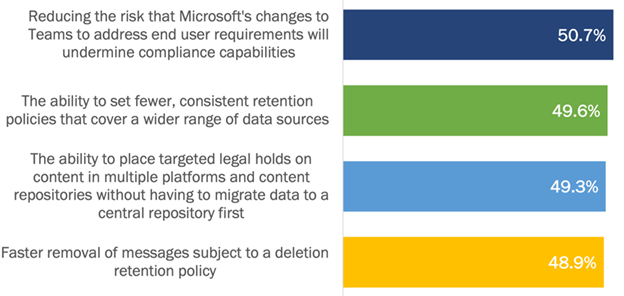 Group 3 would focus more on high level compliance monitoring that would bolster existing compliance rules and policies. Their questions may include:
Can I supervise non-compliant communications effectively?
Do I have any sort of active compliance manager that can monitor and alert me of policy violations?
Do I have the ability to find any and all records? Again, both within MS teams and outside the Microsoft 365 ecosystem.

Assessing Microsoft Teams compliance in your organization
Overall, according to respondents there is a marked decline in confidence in the efficacy of native teams archiving and the increased importance of in-place search (across multiple platforms and content repositories), capturing the full range of data types, all from a single platform for both Microsoft and non-Microsoft data types.
In terms of how Microsoft Teams' compliance offering can be supplemented, it is best to do a thorough evaluation of how your organization uses your unstructured Microsoft 365 data. Understand what the specific needs and priorities are for now and what they may potentially be in the future.
For a more in-depth analysis into Microsoft Teams compliance, please watch our webinar with this link, where we break down some of our most interesting findings.
Additionally, you can directly read the
Archiving and data protection with Microsoft Teams white paper
.