The past few years have seen a growing trend towards information governance and data management initiatives. Yet organizations implementing solutions have largely overlooked their file shares. The simple question of, "What's in your file share?" has become daunting, and most can't accurately answer it. But failure to manage large volumes of files puts the large enterprise at risk from a legal and regulatory standpoint.
Organizations that aren't in control of file shares can't reliably:
Apply legal hold
Defensibly delete data
Enforce access privileges
Meet compliance regulations
Classify records
Apply retention policies
Protect sensitive data
Optimize storage
Resources
Datasheet
White Paper
Case Study
FILE ANALYSIS AND MANAGEMENT: STEPS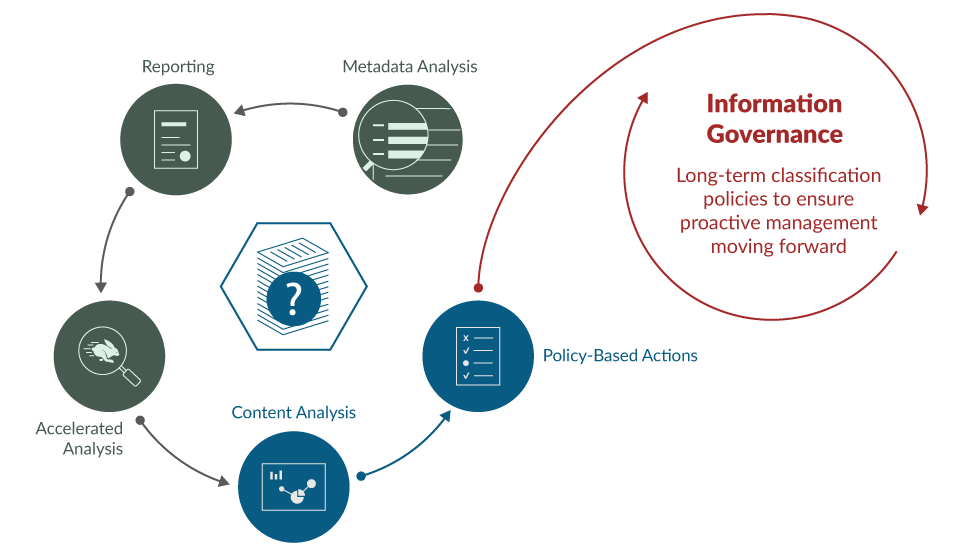 ZL's full-platform approach gives the flexibility to conduct file analysis and management in steps, allowing the business multiple opportunities to assess the results of each phase before deciding how to proceed. This structure provides a process that is more thorough, more cost effective, and more accurate than analysis-only products. The process can be customized based on the individual needs of the business, but generally follows three main steps.

STEP 1: FILE ANALYSIS AND REPORTING
The initial analysis process allows the business to assess the current state of the file share and its contents. ZL File Analysis and Management offers unparalleled depth of analysis, with three increasingly granular processes for assessing data.
Metadata Analysis: provide a fast, high-level report of documents
Reporting: generate initial report of metadata and take preliminary file remediation actions
Accelerated Analysis: conduct a quick, exploratory analysis of document contents

STEP 2: FILE REMEDIATION
Once files have been analyzed, remediation steps can be taken to establish control and lay the foundation for ongoing governance practices.
Content analysis: index and analyze contents of all selected items, if desired
Identify compliance-protected content
Establish policy-based actions:

Delete unwanted items and ROT
Classify records and non-records
Assign or change access privileges
Categorize and protect sensitive data such as PII, PCI, PHI and more

STEP 3: ONGOING FILE GOVERNANCE
Once file remediation has been completed, ZL's governance capabilities can be used to permanently manage data within ZL Unified Archive®, without having to switch products.
Ingest and full-text index selected items
De-duplicate redundant copies of data
Set and execute granular and defensible lifecycle policies
Seamlessly perform eDiscovery, compliance, and records functions
THE ZL DIFFERENCE
SEAMLESSLY TAKE THE NEXT STEP TOWARDS GOVERNANCE:




Simple insight into data is no longer enough. A good solution allows you to take policy based action for clean-up and then tap into a larger Information Governance system. ZL provides seamless transition from Content Insight to Information Governance all within the same system, ensuring that our customers are able to implement a long-term solution rather than a one-off project.

INSIGHT BEYOND METADATA:




Metadata analysis is a powerful tool in file analysis, but it is sometimes insufficient. For example, the identification of PII, PHI, PCI etc. requires analysis of content. ZL File Analysis and Management provides advanced insight through metadata and content based analysis.

GOVERN ALL DATA WHEREVER IT LIVES:




ZL is able to ingest a vast array of file types, work in mixed environments and accommodate deployments both on premise, in the cloud, or both: ensuring that the system can easily adapt as enterprise technology need evolve over time. ZL Direct Extract is also able to migrate and retrieve information from legacy data sources. eg. all file types, Sharepoint, Documentum and more.