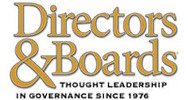 Feb 01, 2011
It seems that no one — management, boards, shareholders — is happy with how annual meetings are conducted these days.
Annual meetings can be a frustrating and often futile exercise — in meeting statutory requirements, yes, but not much else as a worthy vehicle for demonstrating corporate leadership and enhancing shareholder relations.
To download a PDF version of this article, please click here.