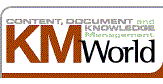 Oct 21, 2021
Workers in the United States are experiencing newfound agency inspired by the prolonged work from home mandate. It has provided them the opportunity to prove, again and again, that they are equally equipped to do their job remotely as they were in person. A decade ago—or, to be honest, in February 2020—this would have seemed infeasible.
This monumental shift in work style has been facilitated by technology that enables real-time, distant collaboration. The most popular of which is Microsoft Teams, a nesting doll of data sources with messages, files, and meetings all wrapped into one. From the perspective of the end user, Microsoft Teams is a powerful tool that enables effective cooperation; however, for data management, compliance, and legal officials, it complicates day-to-day operations.
Read the rest of the article at KMWorld.