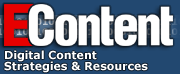 Mar 17, 2011
Content migration can mean many different things to different organizations. For some, it can mean migrating the contents of their current content management system (CMS) to another, more efficient system.
For others, it can mean moving that content into a content delivery network (CDN) so that it's more accessible for users. It can also be identified as the migration of content from one archiving system to another, making the content much easier to sort and identity for any future needs.
To read the full article, please visit EContent.
To download a PDF version of this article, please click here.