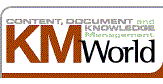 Mar 07, 2012
Twelve years ago, when we published our first list, a host of vendors were attempting to serve the business community by layering bell upon whistle upon bell, hoping something might gain traction. Those were the earliest days of irrational exuberance, and many startups were targeting a developing knowledge management market, but merely making empty promises of true solutions. You likely remember those days-some of the software was simply breathtaking in its design but lots of shine with little substance.
To read the full article, please visit KMWorld.
To download a PDF version of this article, please click here.