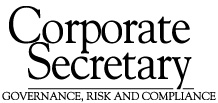 Nov 29, 2011
Companies are becoming less reactive and more proactive.
A number of important shifts are taking place in the world of information management as companies struggle with the challenges presented by dealing with increasing numbers of electronic documents that have differing levels of importance.
To read the full article, please visit Corporate Secretary.
To download a PDF version of this article, please click here.