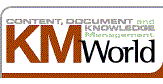 Oct 29, 2010
eTouch SamePage—scalable and dynamic enterprise wiki that enables its users to foster collaboration, manage valuable company knowledge and streamline decision making in a secure, well supported environment.
Expert System Cogito Platform—software that searches, discovers, classifies, extracts and interprets text information generated automatically through Expert System, allowing for a faster search with a high degree of precision, helping to streamline the search process as a whole.
To read the full article, please visit KMWorld.
To download a PDF version of this article, please click here.