ZL GDPR Compliance: Leverage analytics to protect the privacy of EU citizen data
GDPR Compliance
The upcoming General Data Protection Regulation (GDPR) comes into effect globally in May, 2018, and will introduce and standardize new requirements for data protection, control, and privacy. With fines up to 20 million EUR or 4% global annual turnover, any organization that processes the personal data of EU residents is affected.
Key requirements that should be addressed include:
A subject's right to request access to personal data
A subject's right to request their data be deleted
Stricter consent requirements for data processing
With GDPR going into effect in May of 2018, are you prepared?
GDPR Timeline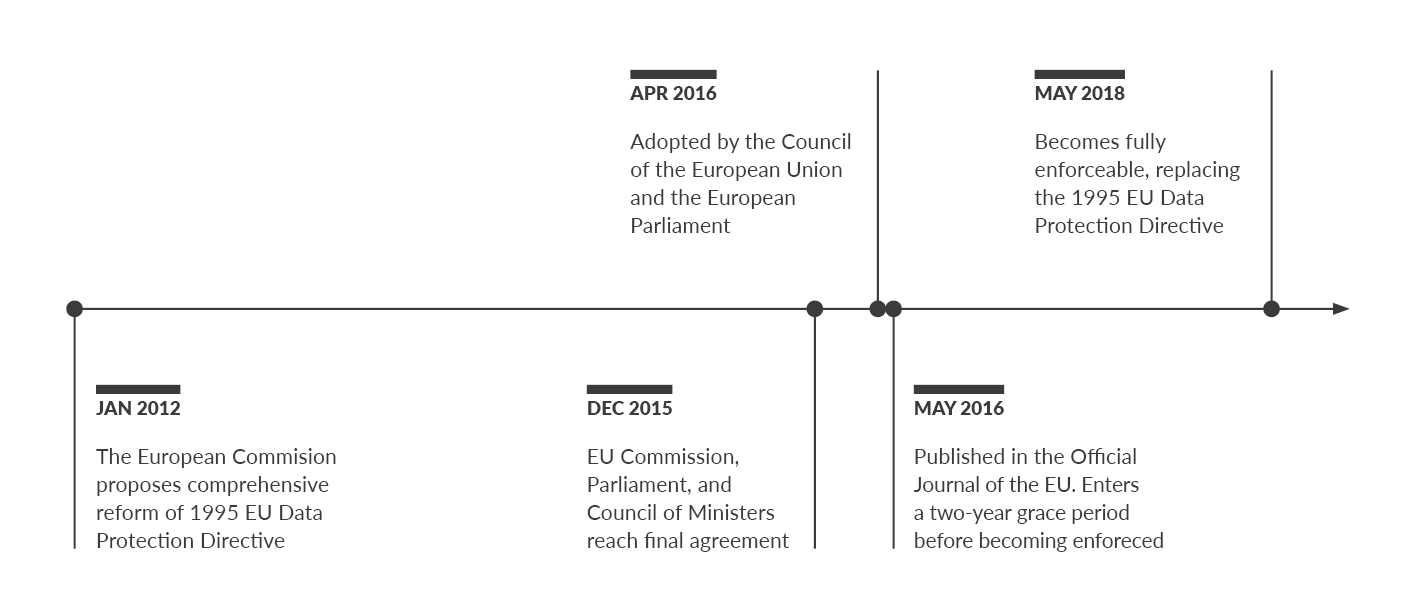 ZL File Analysis and Management
ZL File Analysis and Management (ZL FAM) enables organization to minimize exposure to the GDPR and respond to subject access requests by locating and remediating personal data. ZL FAM's metadata analysis and visualization features offer users actionable insight into all major enterprise file sources, from file shares and SharePoint to Exchange, Domino, and Office 365. Metadata such as location, file type and author is visualized in intuitive and practicable charts and graphs, giving companies a deeper understanding of which files can be remediated from a bird's eye view.
From there, content-analysis enables a fully customizable search for criteria such as file type, keyword, and character patterns indicative of personally identifiable information (PII), personal health information (PHI), and personal credit card information (PCI). Users can tag any number of files at any time, and then perform policy-based remediation actions—i.e. deletion, relocation to a secure environment, and assignment of access privileges. ZL FAM finally puts organizations back in command of their data by making all file content fully searchable, accessible, and amenable on a single interface.
Key capabilities include:
Compatible with major file sources: including file shares, SharePoint, Exchange, Domino, and Office 365.
Metadata-analysis and visualization: Scans file sources for metadata fields such as file type, location, and modification date. Results are presented through practicable charts and graphs.
Advanced tagging and remediation: allows users to create customizable tags, and apply remediation policies such as deletion, quarantine, and access privilege assignment.
Accelerated-analysis: provides representative sample of file sources using proprietary algorithm
Content-analysis and enterprise-wide search: full-text indexing of all files allows users to quickly search across all file sources.
File archiving and long-term governance: Ingestion into Unified Archive® on an ongoing basis provides the following capabilities, among many: automated classification policies, adjustable retention periods, legal hold, and storage optimization