Background
Founded in 1937, this iconic global car manufacturer has pioneered the automobile industry to provide its customers with efficient and affordable automobiles for the masses. The customer designs and manufactures a diverse product line that ranges from subcompacts, luxury, and sports vehicles to SUVs, trucks, minivans, and buses. As a worldwide leader conducting business and facing potential litigation in 27 countries, the customer demanded a solution that could fulfill the demanding legal requirements typically seen in a top Fortune Global 500 corporation.
Problem
Prior to utilizing ZL Unified Archive® (ZL UA), the customer had experienced some challenges with their manual eDiscovery processes. The client was interested in bolstering their early case assessment approach while improving initial collection and ensuring preservation of custodial information.
Through the prior collection method, the IT department used a traditional workflow that required a significant amount of manual work. IT staff would periodically copy and manage all custodian data to a separate location at the onset of a case, and this secondary copy location was then used for both eDiscovery and lifecycle management functions.
However, this original method proved cumbersome and incomplete for several reasons, primarily because there was no way to ensure complete data preservation. The client realized there was a window of time during the manual collection process that custodians could delete potentially responsive data prior to its preservation. This posed a major problem as this made the collection and preservation process extremely difficult to defend, potentially leading to hefty fines associated with spoliation charges.
Another challenge presented itself when individual custodians generated new daily emails that needed to be collected and preserved. IT would have to consistently coordinate with legal to ensure the data set used during the discovery process was the most relevant and up-to-date without any missing data.
These inherent issues led the customer to look for an eDiscovery solution that would allow them to not only perform custodian collection, legal hold, and early case assessment, but to do so in a single solution that could scale to the large data volumes produced by Global 500 corporations.
Solution
After a thorough evaluation of several solutions in the market, the customer selected ZL UA as the solution to meet the combined requirements of scalability, flexibility and functionality.
The customer is now able to proactively collect data from over 6,000 custodians by utilizing ZL's legal hold, collection, and early case assessment capabilities. Additionally, ZL provides the ability to full-text index all data residing in the archive, resulting in comprehensive global searches return results in seconds. This speed and comprehensive archiving abilities allow for true early case assessment, as the legal team can start forming preliminary legal strategies based on the entire corpus of enterprise data available in the archive, rather than based on a narrow sample set.
In addition to performing comprehensive early case assessment, the customer can now look forward to easily administering ongoing legal holds for future data. This feature provides real-time legal hold, eliminating preservation gaps and accidental deletion of custodian data.
ZL's Discovery Manager also allows the customer to send out legal hold notifications to custodians, tracking responses and sending reminders all through one platform. This ensures one comprehensive and defensible eDiscovery process where custodians are not only informed of their duties, but also have their actions reconciled by the legal department.
This workflow allows for complete lockdown of past and future data, ensuring complete data preservation, thus eliminating the risk of spoliation.
Microsoft Office 365
One of the major developments after the initial project was completed was the customer's ensuing interest in Microsoft Office 365 (O365). The customer wanted to move to a cloud email platform, but was aware of O365's governance gaps and needed to be sure they could incorporate O365 into their existing information management framework.
ZL UA is platform agnostic, and can work with a wide variety of email configurations. Therefore when the customer came to ZL with concerns over integration with O365, ZL was able to fully satisfy all customer questions.
With the customer concerns satisfied, ZL rolled out email journaling and archiving along with full eDiscovery functionality for O365, and thus the customer was able to deploy their new email platform with no interruptions in ZL UA's service.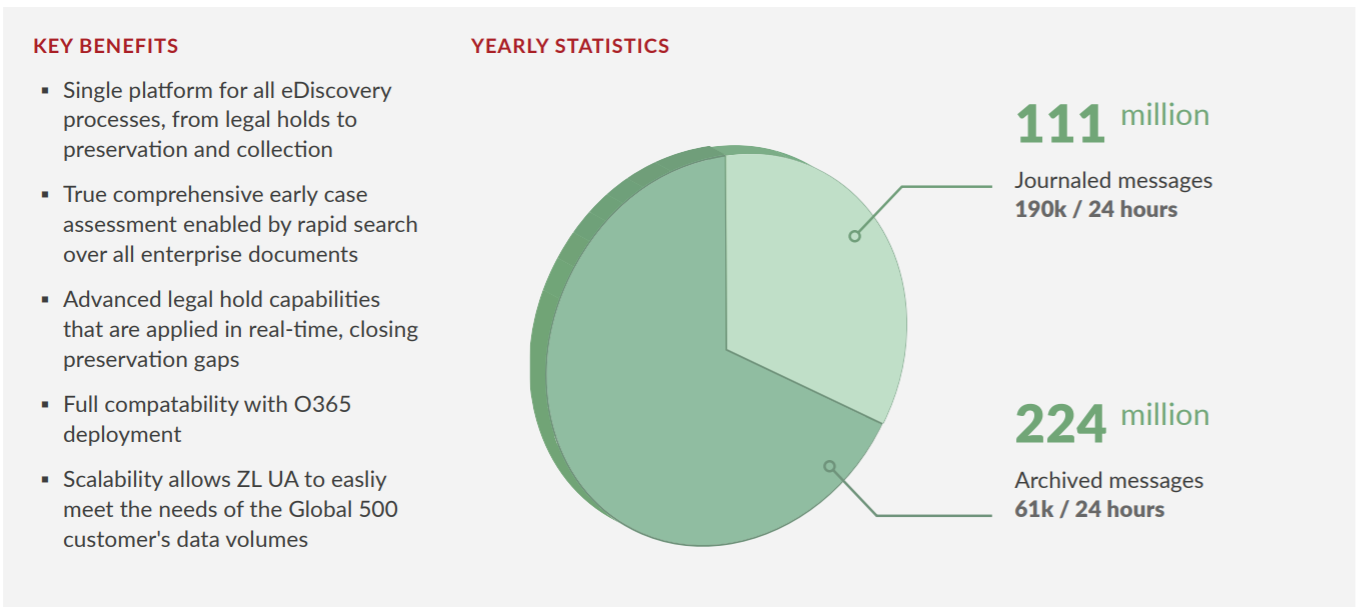 Result
The customer selected ZL UA because no other solution could scale to the required performance needs while still providing unparalleled defensibility through granular reporting and audit trails. The Global 500 customer conducted both a proof of concept as well as vigorous performance testing for speeds of ingestion, export, search, and indexing. From the results of this performance evaluation, ZL was by far the most scalable and capable solution.
Looking towards the future, the customer is seeking to leverage ZL as a long-term platform that can manage further applications, such as records management, storage management, and compliance.