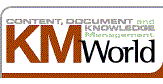 Feb 17, 2016
ZL Technologies, Inc., a provider of information governance and analytics, is launching new e-discovery features with an updated release of its flagship platform. "We've looked at the enormous growth in data volume and we've been addressing that problem with the next generation of our toolset," said Hemanth Salem, head of the Information Governance and Analytics division at ZL Technologies.
The 8.0.3 version of the ZL Unified Archive (ZL UA) platform leverages in-house counsel to further enable the ZL UA environment in order to fit existing workflow and preferences to increase overall efficiency and improve case outcomes. "We've taken our new technology and applied it so that we can do e-discovery right in the archives," Salem said.
To read the full article, please go to KM World.
To download a PDF version of this article, click here.