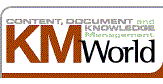 Apr 21, 2016
ZL Technologies, a provider of enterprise information governance and analytics, has announced the release of ZL File Analysis and Management. The new file analysis capabilities are designed to rein in corporate file share environments by joining advanced analytics capabilities with governance architecture.
Likening a single file analysis and cleanup project to cleaning your house only once and expecting it to stay that way, Kon Leong, CEO of ZL Technologies, observed that, for long-term sustainability, file analysis must be embedded within information governance architecture.
To read the full article, please visit KMWorld.
To download the pdf, please click here.