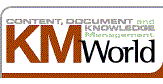 Sep 01, 2015
We published our first KMWorld Trend-Setting Products list nearly a decade-and-a-half ago because we wanted to bring some clarity to the sometimes elusive knowledge management needs of our subscribers. As we do with our KMWorld 100 Companies That Matter list, we established a judging panel of colleagues, market and technology analysts, KM theoreticians and practitioners, customers and a select few savvy users in a variety of disciplines to identify products that fulfill the ultimate goal of knowledge management—delivering the right information to the right people at the right time.
To read the full article, please visit KMWorld.
To download a PDF version of this article, please click here.