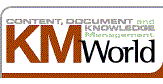 Oct 06, 2015
The IT "cloud" is not unlike the ones we see over the sky each day, changing from one second to the next. What once appeared to be a young child running may turn into a woman with hair billowing in the wind, just as one cloud offering can evolve in features and scale.
To read the full article, please visit KMWorld.
To download a PDF version of this article, please click here.