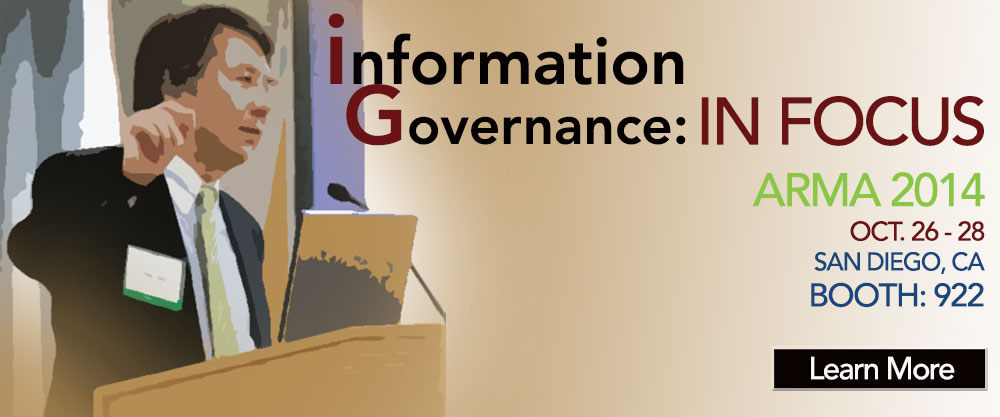 ARMA International 2014
With everything from pub crawls to keynote speeches, ARMA is heading to San Diego this year and we at ZL HQ are gearing up for what promises to be a great event! Information Governance discussions have taken center stage and we love being a part of the conversation. With speaking sessions spanning topics like the evolution of RIM and leveraging the power of data lakes, we're happy to answer all your questions. As always, there's never a dull moment at ARMA. So here's our snapshot overview of events to help you navigate the adventure.
Welcome Reception
Sunday, October 26th | 5:00 pm – 6:30 PM | Center Terrace The ZL Team is excited to announce that we will once again be your hosts at the Welcome Reception this year. The venue is a picturesque outdoor terrace overlooking the sunset over the ocean and we couldn't ask for a better start to ARMA 2014. Join us for a drink and some snacks to kick back, relax and enjoy the view!
Session 1
For IG Success: Pool Data into a Lake
Sunday, October 26th | 2:45 PM- 3:45 PM | Room 28AB, Upper Level The biggest challenge in enterprise-wide information governance (IG) is consolidation of data silos. A massively scalable architecture is critical to unify all content into a "data lake." If the foundation is weak, IG will likely fail…especially as needs escalate with data volume, formats, and functionalities. This session outlines the hard questions to ask in architectural scalability and functional requirements in order to ensure that your data lake, as Gartner puts it, doesn't turn into a data "swamp."
Session 2
Big Data Refines RIM- New Threats, New Opportunities
Monday, October 27th | 8:00 AM – 9:00 AM | Room 28AB, Upper Level As waves of change in technology, litigation, compliance, and recordkeeping converge, the fundamental nature of a business record overflows far beyond current confines. Changes threaten to convulse areas of the organization, especially in RIM. However, these changes also create new opportunities beyond file plans and classification. This session details the drivers behind changes, case studies, discernible trends, probable outlook, and the specific ways records managers can adapt skill sets to succeed in this fast-changing era of big data.
Pub Crawl
Monday, October 27th | 3:30 PM – 5:30 PM | Expo Hall All work and no play? That's just not the ARMA Expo way! By popular demand, ZL has joined the roster of exhibitors that will be participating in the 2014 Expo Hall Pub Crawl. To wind down after the day's Educational Sessions, just make sure to stop by Booth 922 and let your cup runneth over. We'll be serving complimentary drinks to whet your thirst before you set out for evening escapades in beautiful San Diego.